My Bookstore
"Book Passage" CORTE MADEHA, CALIFORNIA
I am old-fashioned. I believe that one should have a personal doctor, a dentist, a hairdresser, and, of course, a trusted bookstore. I wouldn't think of buying books at random, without my bookseller's recommendation, no matter how good the reviews may be. Fortunately I when I immigrated to the United States twenty-five years ago -because I fell in lust with a guy whom I eventually forced into marriage - I ended up living in Marin County, California. Almost immediately, I found the perfect bookstore. However, to find the proper doctor, dentist, and hairdresser took some time. Book Passage, an independent bookstore in Corte Madera, is only ten minutes away from my home, and it rapidly became my refuge and the extension of my office. The owners, Elaine and Bill Petrocelli, welcomed me with open arms; not because I was a writer, but because I was a neighbor.
Since 1987 I've started the tours for each of my books at Book Passage, the favorite place for authors on tour because they get an enthusiastic audience and are treated like celebrities, even when they are not. I have had the opportunity to attend readings by great writers, politicians, scientists, stars, gurus, and many more whom I would never have met elsewhere. I have enjoyed fabulous meals at the Cooks with Books events organized by the store in classy restaurants. Due to the requirements of my job, I am a nomadic traveler. Before any journey I visit the store's great travel section, where I get maps and information, including, for example, where to buy beads in Morocco or where to get the best pasta in Florence.
Book Passage is much more than a store for me: It's the place where I meet friends, journalists, students, readers, and fellow writers; it's where I have my mailbox and an open account for me and my family to buy and to order all our books. As soon as my grandchildren learned to dial a phone they would call the store to order kids' books and then call again if they didn't get them the next day. For years, they were present every Sunday at story hour, and they were the first ones in line, wearing the appropriate outfits, for the fun midnight Harry Potter parties.
Willie Gordon, my husband (yes, the same guy I met a quarter of a century ago), retired as a lawyer and decided to become a writer. I couldn't believe that he intended to compete with me but he persisted. At Book Passage he attended the Annual Mystery Writers Conference and opted for crime novels as the most appropriate genre for him, not because he has a particularly mean streak, but because he knows a lot about law and forensics. He took writing classes and read the books suggested by the staff. To my dismay, Willie has writ ten five novels in the last few years, translated into several languages. Nothing pleases Elaine Petrocelli so much as to see a student at her conferences return a couple of years later to teach as a published author. Willie is just one of many cases. Elaine is the first person to read Willie's manuscripts and review them. Bill helped Willie to publish in the States.
The buyer at Book Passage selects novels, audiobooks, and reader's copies for me. I don't even bother to choose my own reading material! She gave me "The Kite Runner" by Khaled Hosseini and "The Madonnas of Leningrad" by Debra Dean and Cutting for Stone by Abraham Verghese in manuscript, long before they were published. With the help of the store's knowledgeable staff I have researched sixteen books, including several historical novels and-go figure!-a treatise about aphrodisiacs. Before writing a trilogy for young adults I attended the store's Children's Writers Conference, and later, so that I could learn what kids really like to read, they organized a yearlong kids' book club.
This bookstore is the cultural soul of a large community. It's the place to take writing classes, learn languages, attend conferences, participate in book clubs and speakers' series, and, if you are a teenager, Twitter-talk (whatever that is). Elaine and Bill Petrocelli work with schools, community organizations, and restaurants, they do fund-raising for many causes, and they have a partnership with Dominican University so that students can receive credit for classes and conferences. Their clientele is so loyal that Amazon and the chains

have not been able to put them out of business, and, let me tell you, they have tried.
The only place as comforting as a friendly bookstore is probably your grand-mother's kitchen. The sight of shelves packed with books of all kinds, the smell of printed paper and coffee, and the secret rustle of the characters that live in the pages warm up any heart. I go to Book Passage to pass the time, to read, to gossip, and to lift my spirit. But I have also gone there to share my sorrow, as I did when I was grieving for my daughter's death. At the store, amidst all those books, many of which were painful memoirs, I realized that had to write Paula's story, as others had written about their broke hearts before me. During that terrible year of mourning I spent man hours at Book Passage writing by hand, sipping tea, and wiping my tears, supported by my friends at the store who kept me company while respecting my privacy.
Sometimes, when I have a fight with Willie, or when I feel particularly nostalgic, I fantasize about going back to live in Chile, but I know it will never happen-because my dog can't travel so far, and I am not willing to lose Book Passage.
ISABEL ALLENDE is the best-selling author of nine novels including The House of the Spirits, Inés of My Soul, Portrait in Sepia, and Daughter of Fortune.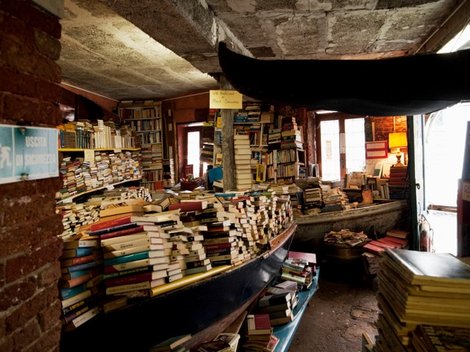 A bookshop in Venice, 2010
The books that I remember best are the ones I stole in Mexico City, between the ages of sixteen and nineteen, and the ones I bought in Chile when I was twenty, during the first few months of the coup. In Mexico there was an incredible bookstore. It was called the Glass Bookstore and it was on the Alameda. Its walls, even the ceiling, were glass. Glass and iron beams. From the outside, it seemed an impossible place to steal from. And yet prudence was overcome by the temptation to try and after a while I made the attempt.
The first book to fall into my hands was a small volume by [the nineteenth century erotic poet] Pierre Louÿs, with pages as thin as Bible paper, I can't remember now whether it was Aphrodite or Songs of Bilitis. I know that I was sixteen and that for a while Louÿs became my guide. Then I stole books by Max Beerbohm (The Happy Hypocrite), Champfleury, Samuel Pepys, the Goncourt brothers, Alphonse Daudet, and Rulfo and Areola, Mexican writers who at the time were still more or less practicing, and whom I might therefore meet some morning on Avenida Niño Perdido, a teeming street that my maps of Mexico City hide from me today, as if Niño Perdido could only have existed in my imagination, or as if the street, with its underground stores and street performers had really been lost, just as I got lost at the age of sixteen.
From the mists of that era, from those stealthy assaults, I remember many books of poetry. Books by Amado Nervo, Alfonso Reyes, Renato Leduc, Gilberto Owen, Heruta and Tablada, and by American poets, like General William Booth Enters Into Heaven, by the great Vachel Lindsay. But it was a novel that saved me from hell and plummeted me straight back down again. The novel was The Fall, by Camus, and everything that has to do with it I remember as if frozen in a ghostly light, the still light of evening, although I read it, devoured it, by the light of those exceptional Mexico City mornings that shine—or shone—with a red and green radiance ringed by noise, on a bench in the Alameda, with no money and the whole day ahead of me, in fact my whole life ahead of me. After Camus, everything changed.
I remember the edition: it was a book with very large print, like a primary school reader, slim, cloth-covered, with a horrendous drawing on the jacket, a hard book to steal and one that I didn't know whether to hide under my arm or in my belt, because it showed under my truant student blazer, and in the end I carried it out in plain sight of all the clerks at the Glass Bookstore, which is one of the best ways to steal and which I had learned from an Edgar Allan Poe story.
After that, after I stole that book and read it, I went from being a prudent reader to being a voracious reader and from being a book thief to being a book hijacker. I wanted to read everything, which in my innocence was the same as wanting to uncover or trying to uncover the hidden workings of chance that had induced Camus's character to accept his hideous fate. Despite what might have been predicted, my career as a book hijacker was long and fruitful, but one day I was caught. Luckily, it wasn't at the Glass Bookstore but at the Cellar Bookstore, which is—or was—across from the Alameda, on Avenida Juárez, and which, as its name indicates, was a big cellar where the latest books from Buenos Aires and Barcelona sat piled in gleaming stacks. My arrest was ignominious. It was as if the bookstore samurais had put a price on my head. They threatened to have me thrown out of the country, to give me a beating in the cellar of the Cellar Bookstore, which to me sounded like a discussion among neo-philosophers about the destruction of destruction, and in the end, after lengthy deliberations, they let me go, though not before confiscating all the books I had on me, among them The Fall, none of which I'd stolen there.
Soon afterwards I left for Chile. If in Mexico I might have bumped into Rulfo and Arreola, in Chile the same was true of Nicanor Parra and Enrique Lihn, but I think the only writer I saw was Rodrigo Lira, walking fast on a night that smelled of tear gas. Then came the coup and after that I spent my time visiting the bookstores of Santiago as a cheap way of staving off boredom and madness. Unlike the Mexican bookstores, the bookstores of Santiago had no clerks and were run by a single person, almost always the owner. There I bought Nicanor Parra's Obra gruesa [Complete Works] and the Artefactos, and books by Enrique Lihn and Jorge Teillier that I would soon lose and that were essential reading for me; although essential isn't the word: those books helped me breathe. But breathe isn't the right word either.
What I remember best about my visits to those bookstores are the eyes of the booksellers, which sometimes looked like the eyes of a hanged man and sometimes were veiled by a kind of film of sleep, which I now know was something else. I don't remember ever seeing lonelier bookstores. I didn't steal any books in Santiago. They were cheap and I bought them. At the last bookstore I visited, as I was going through a row of old French novels, the bookseller, a tall, thin man of about forty, suddenly asked whether I thought it was right for an author to recommend his own works to a man who's been sentenced to death.
The bookseller was standing in a corner, wearing a white shirt with the sleeves rolled up to the elbows and he had a prominent Adam's apple that quivered as he spoke. I said it didn't seem right. What condemned men are we talking about? I asked. The bookseller looked at me and said that he knew for certain of more than one novelist capable of recommending his own books to a man on the verge of death. Then he said that we were talking about desperate readers. I'm hardly qualified to judge, he said, but if I don't, no one will.
What book would you give to a condemned man? he asked me. I don't know, I said. I don't know either, said the bookseller, and I think it's terrible. What books do desperate men read? What books do they like? How do you imagine the reading room of a condemned man? he asked. I have no idea, I said. You're young, I'm not surprised, he said. And then: it's like Antarctica. Not like the North Pole, but like Antarctica. I was reminded of the last days of [Edgar Allan Poe's] Arthur Gordon Pym, but I decided not to say anything. Let's see, said the bookseller, what brave man would drop this novel on the lap of a man sentenced to death? He picked up a book that had done fairly well and then he tossed it on a pile. I paid him and left. When I turned to leave, the bookseller might have laughed or sobbed. As I stepped out I heard him say: What kind of arrogant bastard would dare to do such a thing? And then he said something else, but I couldn't hear what it was.
This essay is drawn from Between Parentheses: Essays, Articles and Speeches (1998–2003) by Roberto Bolaño, translated by Natasha Wimmer, forthcoming from New Directions on May 30.
March 22, 2011 12:15 p.m.