Time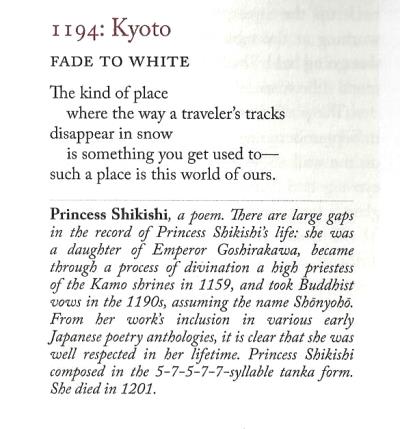 Bài thơ trên, dịch bằng câu thơ của Đoàn Văn Cừ, "nước thời gian gội tóc trắng phau phau", đặng.
Nhưng có lẽ dịch bằng đoạn văn sau đây, của Gấu Cà Chớn thì mới thật đắc địa:
Như người xưa đánh rớt cây gươm xuống lòng sông, bèn ghi dấu nơi mạn thuyền,
chàng trở lại quán xưa,
tìm dấu giầy trên lớp bụi thời gian, và
tiếng cười của nàng vẫn còn văng vẳng đâu đây.

1194: Kyoto
FADE TO WHITE
The kind of place
where the way a traveler's tracks
disappear in snow
is something you get used to-
such a place is this world of ours.
Princess Shikishi, a poem. There are large gaps in the record of Princess Shikishi's life: she was a daughter of Emperor Goshirakawa, became through a process of divination a high priestess of the Kamo shrines in 1159, and took Buddhist vows in the 1190s, assuming the name Shonyobo. From her work's inclusion in various early Japanese poetry anthologies, it is clear that she was well respected in her lifetime. Princess Shikishi composed in the 5-7-5-7-7-syllable tanka form.
She died in 1201.

Cái thứ nơi chốn mà dấu chân kẻ lãng tử biến mất vào trong tuyết, là cái điều mà bạn trở nên quen thuộc - một nơi chốn như thế đó, chính là cái cõi đời này của chúng ta
.
Lapham_Time
Wet Evening in April
The birds sang in the wet trees
And as I listened to them it was a hundred years from now
And I was dead and someone else was listening to them.
But I was glad I had recorded for him
The melancholy.
Patrick Kavanagh
Chiều Ướt, Tháng Tư
Chim hót trên cành ướt
Và Gấu nghe chim hót, vào lúc, cách lúc này, một trăm năm.
Tất nhiên, Gấu thì ngỏm rồi, và một ai đó đang nghe chim hót
May cho người này là Gấu có ghi lại giùm cho anh ta hay chị ả
Nỗi buồn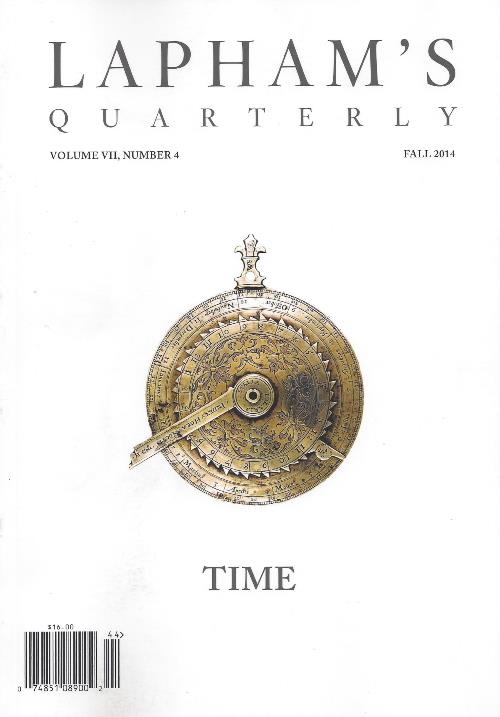 This is Year Zero

-Pol Pot, 1975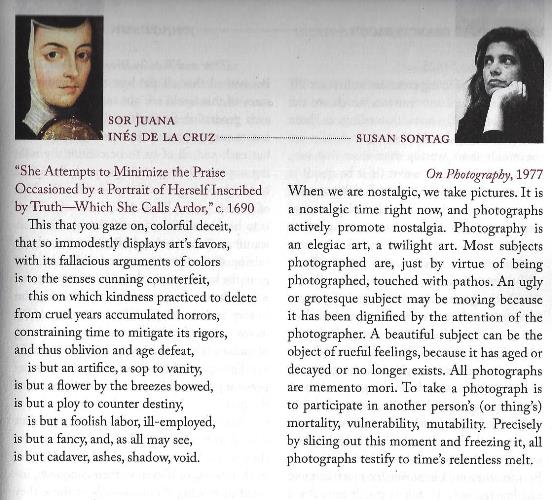 Khi chúng mình nhớ nhung, chúng mình chụp hình. Lúc này đúng là lúc chúng mình nhớ nhau, và những bức hình làm càng nhớ nhau.
Chụp hình là 1 nghệ thuật của bi khúc, một nghệ thuật của lúc chạng vạng...

1917: Alexandria
SLIGHTLY LONGER THAN NECESSARY
I never had you, nor I suppose
will I ever have you. A few words, an approach,
as in the bar the other day-nothing more.
It's sad, I admit. But we who serve art,
sometimes with the mind's intensity,
can create-but of course only for a short time-
pleasure that seems almost physical.
That's how in the bar the other day-
mercifully helped by alcohol-
I had half an hour that was totally erotic.
And I think you understood this
and stayed slightly longer on purpose.
That was very necessary. Because
with all the imagination, with all the magic alcohol,
I needed to see your lips as well,
needed your body near me.

Hơi dài hơn cần thiết
Tôi chưa từng có em
Và chưa từng giả dụ sẽ có em
Một vài lời, một tiếp cận
Trong tiệm, bữa nọ - chỉ có vậy
Buồn thật, tôi thừa nhận.
Nhưng chúng ta phục vụ nghệ thuật,
đôi khi với cái đầu thật căng, có thể sáng tạo –
tất nhiên, chỉ trong thời gian ngắn -
lạc thú
mà lạc thú này có vẻ như trần tục, nghĩa là phải có tí đụng chạm.
Đó chuyện đã xẩy ra trong bữa ở tiệm – may mắn thay, nhờ rượu
Tôi có được chừng nửa giờ, rất ư là huê tình, rất ư là tới chỉ
Và tôi nghĩ, em cũng nhận ra điều này,
và cố tình kéo dài hơn 1 tí, quá sự cần thiết.
Bởi là vì với tất cả tưởng tượng, với tất cả sự thần bí huyền diệu, nhờ rượu,
tôi cần nhìn đôi môi em, cần thân thể em kế bên tôi.

C. P. Cavafy, "Half an Hour." Cavafy worked in the irrigation service of the Egyptian ministry of public works in Alexandria from 1892 to 1922. He published only a few of his poems in literary journals, instead preferring to print pamphlets of them at his own expense to distribute among friends. E. M. Forster, a friend and early admirer of his poetry, wrote that he only ever saw Cavafy "going either from his flat to the office or from his office to the flat. " Cavafy died on his seventieth birthday in 1933.

Thơ, với Cavafy, như lạc thú và cái đẹp, đám mắt trắng dã - quần chúng, đám đông, tập thể…- không thưởng thức được, những thứ đó không ở trong tầm tay của mọi người: chúng chỉ có đó, cho những con người đủ "dám" để mà khui, móc chúng ra, và trồng trọt, săn sóc chúng như là những trái cấm, trong 1 khoảnh đất nguy hiểm.
Poetry, for Cavafy, like pleasure and beauty, could not be brought publicly to light, nor were such things within everyone's reach: they were available only to those daring enough to seek them out and cultivate them as forbidden fruits, in dangerous territory.
Vargas Llosa: The Alexandrian
Bài viết về Cavafy của Vargas Llosa, Gấu đọc cũng lâu rồi, cũng tính giới thiệu với độc giả TV, nhưng lại quên đi. Mới đây, đọc bài trên tờ Books về Cavafy, cũng thú lắm: Những người khuân vác mộng. Chắc là phải đi 1 đường về ông thi sĩ "ghê" này thôi!

ULYSSES PASSES ITHACA
What's this pile of rocks and sand? Ithaca ...
You know you'll find the bees, the ancient dog,
The olive tree, the faithful wife. But look:
The water glitters, black under your prow.
No, don't waste another glance: this coast
Is just your threadbare kingdom. You won't
Shake the hand of the man you are now-
You who've lost all sorrow, and all hope.
Sail on, disappoint them. Let the island slip by,
Off to port. For you, this other sea unrolls:
Memory haunts the man who wants to die
Speed ahead. From this day on, set your course
For that low, huddled shore. There, in the foam,
Plays the child that you once were, here.

Ulysse đi ngang Xề Gòn
Cái đống kè đá, cát kiết kia là cái gì hử? Xề Gòn đó.
Mi biết mà, ở đó có đàn ong, có con chó già
Có cây ô liu và bà vợ trung thành
Nhưng coi kìa, dòng nước long lanh, đen thui, dưới mũi thuyền
Không, đừng nhìn bờ sông nữa
Thì đúng vưỡn chỉ là cái vương quốc khốn khổ của mi ngày nào
Mi sẽ chẳng thể bắt tay cái kẻ là mi bây giờ
Mi, kẻ đếch còn đau buồn, hy vọng
Dong buồm tếch thôi, kệ cha Xề Gòn và
những con người của nó đang từ từ trôi xa ở phía mạn trái thuyền
Một biển khác, một Xề Gòn khác đang chờ mi
Hồi ức săn đuổi kẻ nào muốn chết
Tăng tốc thuyền, kể từ ngày hôm nay
Hướng về một Xề Gòn khác, kè đá khác
Hãy nô đùa với đứa trẻ, là mi, ngày nảo ngày nào
Cái ngày mà mi còn Xề Gòn của mi