AZ
SEPTEMBER AFTERNOON IN THE
ABANDONED BARRACKS
The sun, the opulent sun of September,
the full sun of harvest and stumbled field,

stood still above me
and above the abandoned barracks.
Silence
bivouacked where once orders
were shouted;
silence, not
soldiers; in the infirmary
silence, not the groans
of the ill.
The overgrown grass in the yard
needs mowing.
Silence where blue-skulled
recruits sobbed.
In me, too, silence,
no longer despair.
A black rooster, a hot, black banner of blood,
runs down a path.
Autumn fades,
war dims.
Note: Đầu tháng, đi gặp bác sĩ gia đình, lấy thuốc, như thông lệ, ghé tiệm sách cũ, tậu lại được tập thơ AZ, mừng quá.
Đây có lẽ là 1 trong những tập thơ đầu tiên Gấu có được, và cũng thế, AZ, nhà thơ đầu tiên Gấu được đọc, và may mắn làm sao hiểu được, và như 1 bạn thơ Dã Viên nhận xét, dịch tới nhất, nếu phải so với Charles Simic. Tuy nhiên, càng đọc thơ, Gấu càng thấm Simic, hơn nhiều, so với AZ. Với AZ là sự thanh thản, với Simic, là sự thấm thía, và, như bạn biết đấy, Mít, bất cứ 1 thằng chó nào, thì cũng khó thanh thản, nếu có, thì cũng chỉ được tí tỉnh, và đây cũng là điều AZ nói tới trong 1 bài thơ, sau đây.
DON'T ALLOW THE LUCID MOMENT
TO DISSOLVE
Don't allow the lucid moment to dissolve
Let the radiant thought last in stillness
though the page is almost filled and the flame flickers
We haven't risen yet to the level of ourselves
Knowledge grows slowly like a wisdom tooth
The stature of a man is still notched
high up on a white door
From far off, the joyful voice of a trumpet
and of a song rolled up like a cat
What passes doesn't fall into a void
A stoker is still feeding coal into the fire
Don't allow the lucid moment to dissolve
On a hard dry substance
you have to engrave the truth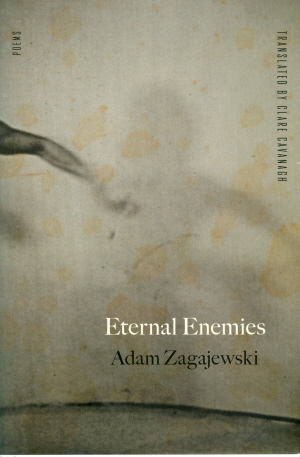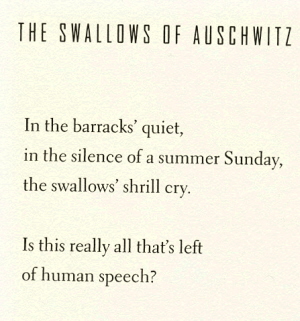 OUR WORLD


IN MEMORIAM W. G. SEBALD


I never met him, I only knew
his books and the odd photos, as if
purchased in a secondhand shop, and human
fates discovered secondhand,
and a voice quietly narrating,
a gaze that caught so much,
a gaze turned back,
avoiding neither fear
nor rapture;
and our world in his prose,
our world, so calm-but
full of crimes perfectly forgotten,
even in lovely towns
on the coast of one sea or another,
our world full of empty churches,
rutted with railroad tracks, scars
of ancient trenches, highways,
cleft by uncertainty, our blind world
smaller now by you.
Ivo Kievenaar

Says:
February 8, 2009 at 8:14 am
I just bought: Adam Zagajewski / Eternal enemies, a marvelous book of poems, Farrar, Straus and Giroux, 2008. One of the poems is dedicated to W.G. Sebald.
Too much about death,
too many shadows.
Write about life,
an average day,
the yearning for order.
Take the school bell as your model
of moderation,
even scholarship.
Too much death,
too much
dark radiance.
Take a look,
crowds packed
in cramped stadiums
sing hymns of hatred.
Too much music
too little harmony, peace,
reason.
Write about those moments
when friendship's foot-bridges
seem more enduring
than despair.
Write about love,
long evenings,
the dawn,
the trees,
about the endless patience
of the light.
Adam Zagajewski
Dịch từ tiếng Ba Lan: Clare Cavanagh
Đen thui,
Ngoại trừ những dòng
Về BHD
Quá nhiều về chết chóc
Quá nhiều bóng tối
Hãy viết về cuộc đời
một ngày, khoảng đó,
khát khao trật tự
He can't think. London is damp,
in every room someone coughs.
He never did like winter.
He rewrites past manuscripts
time and again, without passion.
The yellow paper
is fragile as consumption.

Why does life race
Stubbornly toward destruction?
But spring returns in dreams,
with snow that doesn't speak
in any known tongue.
And where does love fit
within his system?
Where you find blue flowers.

He despises anarchists,
idealists bore him.
He receives reports from Russia,
far too detailed.
The French grow rich.
Poland is common and quiet.
America never stops growing.
Blood is everywhere,
perhaps the wallpaper needs changing.
He begins to suspect
that poor humankind
will always trudge
across the old earth
like the local lunatic
shaking her fists
at an unseen God.
I try to envision his last winter,

London
, cold and damp, the snow's curt kisses
on empty streets, the
Thames
' black water.
Chilled prostitutes lit bonfires in the park.
Vast locomotives sobbed somewhere in the night.
The workers spoke so quickly in the pub
that he couldn't catch a single word.
Perhaps
Europe was richer and at peace,
but the Belgians still tormented the Congo.
And Russia

? Its tyranny?

Siberia?

He spent evenings staring at the shutters.
He couldn't concentrate, rewrote old work,
reread young Marx for days on end,
and secretly admired that ambitious author.
He still had faith in his fantastic vision,
but in moments of doubt
he worried that he'd given the world only
a new version of despair;
then he'd close his eyes and see nothing
but the scarlet darkness of his lids.
-Adam Zagajewski (Translated,from the Polish, by Clare Cavanagh.)
[

The New Yorker,

Jan 21, 2008]
Tôi cố tưỏng tượng ra mùa đông cuối cùng của ông,
Luân Đôn, lạnh, ẩm.
Tuyết đè ngửa, hôn tàn bạo lên phố vắng, lên mặt nước đen thui của dòng sông Thames.
Bướm co ro, run rẩy nhóm lửa nơi công viên.
Có tiếng sụt sùi của những đầu máy, ở đâu đó trong đêm.
Những người thợ nói quá nhanh trong tiệm rượu,
khiến ông không kịp bắt, dù chỉ một từ.
Có lẽ Âu Châu thì giầu có hơn, và thanh bình,
nhưng người Bỉ vẫn hành hạ xứ Congo.
Còn Nga xô thì sao? Bạo chúa của nó? Siberia, chốn lưu đầy ư?
Ông trải qua những buổi tối mắt dán lên những tấm màn cửa.
Ông không thể nào tập trung, viết lại những tác phẩm đã xưa, cũ,
đọc lại Marx trẻ cho tới hết ngày,
và thầm lén ngưỡng mộ tay tác giả tham vọng này.
Ông vẫn còn niềm tin ở cái viễn ảnh thần kỷ, quái đản của mình,
nhưng vào những lúc hồ nghi,
ông đau lòng vì đã đem đến cho thế giới,
chỉ một viễn ảnh mới của sự thất vọng, chán chường;
rồi ông nhắm mắt và chẳng nhìn thấy gì nữa, ngoài bóng tối của mí mắt của mình.
*

I read your poetry once more,
poems written by a rich man, understanding all,
and by a pauper, homeless, an emigrant, alone.
You always want to say more
than we can, to transcend poetry, take flight,
but also to descend, to penetrate the place
where our timid, modest realm begins.
Your voice at times persuades us,
if only for a moment,
that every day is holy
and that poetry, how to put it, rounds our life,
completes it, makes it proud
and unafraid of perfect form.
I lay the book aside
at night and only then the city's normal tumult starts again,
somebody coughs or cries, somebody curses.

-Adam Zagajewski (Translated from the Polish by Clare Cavanagh)


The

New York

Review

, 1 March, 2007.


[Eternal Enemies

p. 40]
Đọc Milosz


Tôi đọc thơ ông, thêm một lần nữa,
những bài thơ viết bởi một người giầu có, thông tuệ,
và bởi một người nghèo mạt hạng, không nhà cửa, di dân, cô độc.
Ông luôn muốn nói nhiều hơn
chúng tôi có thể nói,
để chuyển hóa thơ, để cất cánh,
nhưng cũng để hạ cánh, dấn sâu vào khoảng đất
nơi cõi đời của chúng ta, dụt dè, chơn chất, bắt đầu.
Tiếng nói của ông, nhiều lần, chỉ trong một khoảnh khắc,
khiến chúng tôi ngộ ra một điều là,
mỗi ngày, một ngày, mọi ngày, thì thiêng liêng.
và rằng, thơ, thể hiện điều đó, bằng cách,
quanh quẩn bên đời ta,
hoàn tất nó, làm cho nó tự hào, hãnh diện,
và, đâu cần một dạng hoàn hảo nào, cho thơ.
Tôi để cuốn sách qua một bên.
Đêm, và chỉ tới lúc đó, cái xô bồ, thường lệ, của thành phố lại khởi động,
một người nào đó ho, hay là, la khóc, một người nào đó, nguyền rủa.

I returned to you years later,
gray and lovely city, unchanging city,
buried in the waters of the past.

I'm no longer the student
of philosophy, poetry, and curiosity,
I'm not the young poet who wrote
too many lines

and wandered in the maze
of narrow streets and illusions.
The sovereign of clocks and shadows
has touched my brow with his hand,

but still I'm guided by
a star by brightness
and only brightness
can undo or save me.
Bài thơ trên, tả cảnh Gấu trở về Hà Nội.
Gấu phóng dịch:

Ta trở về với mi, nửa thế kỷ sau,
Thành phố xám xịt, đáng yêu, và chẳng có gì thay đổi
Chôn dưới những con nước của những con hồ Bẩy Mẫu, Thuyền Cuông, Hồ Gươm, Hồ Tây

Ta đâu còn là chàng sinh viên của triết học, của thơ ca, và của tò mò
Cũng không còn là nhà thơ trẻ
viết rất nhiều dòng thơ
và lang thang trong mê cung
của những con phố hẹp và của những ảo tưởng
Chúa Cả Ngôi Cao, với những cái đồng hồ và những cái bóng của nó,
Thò cánh tay xuống, chạm vào lông mày của ta

Nhưng ta vẫn được dẫn dắt bởi một ngôi sao, bởi sự sáng ngời
Và chỉ sự sáng ngời
Là có thể làm lại, hay, cứu vớt đời ta.

Chúa Cả Ngôi Cao, là Gấu muốn nói tới Nhà Thờ Hà Nội, khu Nhà Chung, trường Dũng Lạc... ở kế bên Bờ Hồ.
Bài thơ, đọc song song với bài thơ

Những con phố sau của Hà Nội,

thì mới đã.

Những con phố sau của Hà Nội

Nhà trại thui thủi, chẳng cần Gấu
Và con chó già của Gấu thì lùi lũi chuồn ra khỏi cửa
Chúa biểu Gấu, thôi, hãy về chết ở trong những con phố sau.
Và Gấu tôi không có thể về nhà được nữa.
Gấu thì yêu đến khốn khổ khốn nạn cái thành phố quá chớn này.
Nó thì mới dơ dáy, bệ rạc làm sao.
Và làm Gấu nhớ đến những câu chuyện cổ tích ru giấc ngủ ngày nào
Và những âm thanh của con phố làm tim Gấu đau nhói.
Quá nửa đêm, Gấu đi ra ngoài kiếm một cái gì đó cho đỡ khổ
Và cái mà Gấu kiếm đó, là danh vọng.
Thế là Gấu đi đến một quán rượu ở những con phố sau.
Nơi ai cũng biết tên Gấu.
Ồn, dơ, say, và, xỉn.
Nhưng chẳng ai độc ẩm ở đó.
Ở những con phố sau của Hà Nội.
Mấy tay bồi riệu mua cuốc lủi cho Gấu,
Mấy chị em ta khóc ròng khi nghe đọc thơ của Gấu
Tim Gấu đập, mỗi lúc một nhanh thêm
Và Gấu nói với tên say gần bên cửa –
"Ta thì cũng như mi thôi, đời ta là một thảm họa
Và ta không thể trở về nhà được nữa."
Nhà trại thui thủi, chẳng cần Gấu, cũng thui thủi
Và con chó già của Gấu thì lùi lũi chuồn ra khỏi cửa
Chúa biểu Gấu, thôi, hãy về chết ở trong những con phố sau.
Và Gấu không có thể về nhà được nữa.
THE BACK STREETS OF MOSCOW



Ui chao, hồi này già quá, cơ thể rệu rạo, hệ thống miễn nhiễm hết còn OK,
thành thử con

vai rớt Bắc Kít

hoành hành, đáng sợ thực! NQT

POETRY
Light in the grime
JON STALLWORTHY
Adam Zagajewski
ETERNAL ENEMIES
Translated by Clare Cavanagh
116pp. Farrar, Straus and Giroux. Paperback, $14. 9780374531607
Adam Zagajewski's "Try to praise the mutilated world", first published in the post-September 11 "black" issue of the New Yorker, takes its title from its opening line:
Try to praise the mutilated world.
Remember June's long days,
and wild strawberries, drops of rose wine.
The nettles that methodically overgrow
the abandoned homesteads of exiles.
You must praise the mutilated world.
You watched the stylish yachts and ships;
one of them had a long trip ahead of it,
while salty oblivion awaited others.
You've seen the refugees going nowhere,
you've heard the executioners sing joyfully.
You should praise the mutilated world.
Remember the moments when we were together
in a white room and the curtain fluttered.
Return in thought to the concert where music
flared.
You gathered acorns in the park in autumn
and leaves eddied over the earth's scars.
Praise the mutilated world
and the gray feather a thrush lost,
and the gentle light that strays and vanishes
and returns.
When I read it I was struck, first, by an awareness that, far from lecturing his reader, the speaker was speaking to himself; his use of "You" (a Zagajewski trademark) a welcome change from the self-important I-deology of so many contemporary poets. It struck me, then, that he had brilliantly obeyed his own imperatives - "Remember .... Remember .... Return .... Praise" - and had made me do the same. More generally, I was arrested by the authority of the voice, the courage and wisdom of a call to praise in a time (like any other) of mutilation: praise, a word with Christian associations, repeated with increasing urgency in the refrain, acquiring the force of a liturgical response, a prayer. Behind the distinctive new voice, one can hear a voice heard in Auden's "Musée des Beaux Arts" ("About suffering they were never wrong / The Old Masters"), juxtaposing "miraculous birth" with "dreadful martyrdom" in which "the torturer" plays a part. At some level, Zagajewski remembers this as well as his own love, a fluttering curtain (in a window Auden had opened), and a "mutilated world" where "the executioners sing joyfully". Surely, too, Auden's "expensive delicate ship" must be one of Zagajewski's "stylish ships" - perhaps one heading for the "salty oblivion" that awaits Icarus in the Bruegel painting on which Auden's poem is based.
Zagajewski's praise poem has the variable line-length of Auden's which, despite its unobtrusive rhymes, gives it the easy assurance of the best free verse; and one cannot l pay Clare Cavanagh a greater compliment than to say her English poem does not suffer by comparison with Auden's. These poems have a similarly antithetical structure: Auden's moving from birth to death to life continuing; Zagajewski's, from "June's long days" to "light that strays and vanishes / and returns". They tell us "we must praise" the life continuing, the light returning. They are both Christian poets, intimately involved in human tragedy, yet endowed with the detached perspective of the Old Masters.
Adam Zagajewski was born sixty-four years ago in Lvov and went to university in Cracow, two cities he loves and celebrates in his essays and poems. He emigrated to France in 1982 and now lives between Cracow, Paris and Chicago. Early collections ( of his poems in English translation were presented in Without End (2002) - a title echoing the Book of Common Prayer - with a section of New Poems translated by Cavanagh. She has achieved something just as remarkable with Eternal Enemies. These are identified in n "Epithalamion", a poem beginning "Without a silence there would be no music", that goes on to assert: "Only in marriage do love and time, eternal enemies, join forces". An earlier poem, "Little Waltz", ends: "love sets us free, time kills us". The coming together of man and woman is imaged in that of the earth and "The Sea",
In love with the earth, always drawn to shore
….
In love with the earth, thrusting into cities, Stockholm,

Venice
, listening to tourists laugh and chatter
before returning to its dark, unmoving source.
The most frequent pairing and dis-pairing of the many antitheses in these poems are those a of light and darkness (themselves linked to a life and death), often in a religious context, as a in "The Churches of France", described as "dark vessels, where the shy flame of mighty light wanders". Again, in a more a: recent poem, "At the Cathedral's Foot",
[we] spoke softly about disasters,
about what lay ahead, the coming fear,
and someone said this was the best
we could do now -
to talk of darkness in that bright shadow.
Such poems remind us that when this Polish Roman Catholic Adam was born, "the pock- marked / Georgian still lived and reigned". With a bitter parody of the opening of St John's Gospel, he now remembers:
In the beginning, freezing nights and hatred.
Red Army soldiers fired automatic pistols
at the sky, trying to strike the Highest Being.
The title of that poem, "Life is Not a Dream", is echoed by the end of the next, "It Depends": "I push" through a dense thicket of onlookers and ask: / What's happening? God's coming back. But it's just a dream".
Zagajewski resembles Yeats in the skill with which he links poem to poem, so that the power of both poets' collections is greater than the sum of individual poems. The Arch-poet liked to quote Blake: "Without contraries is no progression". Zagajewski would agree but, whereas the Irish agnostic celebrated the conflict of contraries that, in his "System", made the world and history go round, the Christian Pole seeks and celebrates harmony, love: "Remember the moments when we were together". The title of a key poem proclaims his creed, "Poetry Searches for Radiance", the creed of creative artists (made in their Creator's image) such as Blake-
I watch William Blake, who spotted angels
every day in treetops
and met God on the staircase
of his little house and found light in grimy
alleys –
and like others whom he celebrates: Milosz and Brodsky, Caravaggio and Vermeer, Bach and Schubert.
Last but not least, the composers: indeed, Zagajewski would seem to believe that life as well as art "aspires to the condition of music". A sentence borrowed from Conrad Aiken - "Music I heard with you was more than music" - finds its way into three poems of his new book; and music in some form is the means of communication/communion in the joyful epiphanic moments to which he and his fellow makers aspire. The music of the translator's English free verse, in its happy marriage to the poet's European themes, makes Cavanagh's Zagajewski as rare and rewarding an experience as that of Milosz's Englished Collected Poems.
TLS Dec 4 2009
TLS điểm tập thơ

Eternal Enemies,

Những kẻ thù thiên thu, của
Adam Zagajewski.
Chắc bạn còn nhớ dòng thơ của Brodsky:
Bao thơ tôi, ít nhiều chi, là về cùng một điều - về Thời Gian. Về thời gian làm gì con người.
"All my poems are more or less about the same thing – about Time. About what time does to Man."

Đây là câu trả lời của Adam Zagajewski:
"Only in marriage do love and time, eternal enemies, join forces"
"love sets us free, time kills us".


NEW YEAR'S EVE, 2004

You're at home listening
to recordings of Billie Holiday,
who sings on, melancholy, drowsy.
You count the hours still
keeping you from midnight.
Why do the dead sing peacefully?
while the living can't free themselves from fear?
Adam Zagajewski

Đêm Giao Thừa
Bạn ở nhà nghe Duy Khánh ca


Xuân này con không về


Bạn đếm từng giờ,
Chờ cúng giao thừa
Tại sao người chết ca nghe thật hiền hòa?
Trong khi người sống không thể nào rũ ra khỏi sự sợ hãi?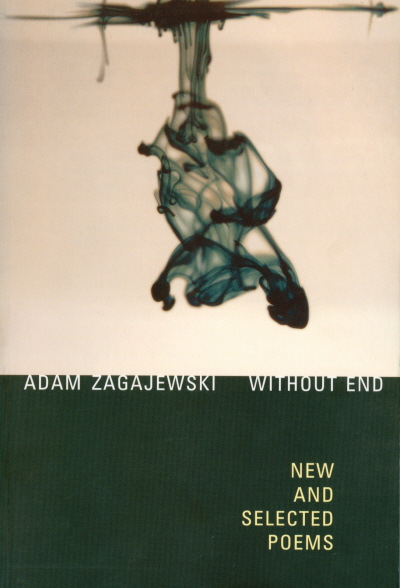 ANECDOTE OF RAIN

I was strolling under the tents of trees
and raindrops occasionally reached me
as though asking:
Is your desire to suffer,
to sob?

Soft air, wet leaves;
-the scent was spring, the scent sorrow.
Giai thoại mưa

Anh lang thang dưới tàng cây
và những hạt mưa thỉnh thoảng lại đụng tới anh
như muốn hỏi:
thèm gì, ước gì?
đau khổ
hay nức nở?
Trời nhẹ, lá ướt;
-Mùi xuân, mùi buồn

"His poems celebrate those rare moments when we catch a glimpse of a world from which all labels have been unpeeled."
-Charles Simic, The New York Review of Books
"Seldom has the muse of poetry spoken to anyone with such clarity and urgency," wrote Joseph Brodsky, "as in Zagajewski's case." Without End draws from each of Adam Zagajewski's English-language collections, both in and out of print- Tremor, Canvas, and Mysticism for Beginners-and features new work that is among his most refreshing and rewarding. In lucid translations by Clare Cavanagh, Renata Gorczynski, Benjamin Ivry, and C. K. Williams, these poems share the vocation that allows us, in Zagajewski's words, "to experience astonishment and to stop still in that astonishment for a long moment or two."
"These poems enter and possess you quietly. It is the quiet of a train halted on its lines. The engine throbs like a pulse, and there is always music in these verses, or the echo of music ... His is the quiet voice at the corner of the immense devastations of an obscene century, more intimate than Auden, yet as cosmopolitan as Milosz, Celan, or Brodsky."
- Derek Walcott, The New Republic
"Filled with splendid moments of spiritual lucidity ... [These poems] transport us into a realm that is majestic, boundless and unknown."
-Edward Hirsch, The Washington Post Book World
"Zagajewski's poems pull us from whatever routine threatens to dull our senses, from whatever might lull us into mere existence. This is an astonishing book." -Philip Boehm, The New York Times Book Review

Những ngày Noel, Gấu ngồi nhà "đọc chơi" [chữ của nhà đại phê bình] ba nhà thơ, mong tìm ra cái chung, và cái riêng của mỗi người.
Một, nữ thi sĩ Mít, một nữ thi sĩ và một nam thi sĩ Ba Lan.
Thâu hoạch cũng không tệ.
Adam Zagajewski
Thơ của ông ngợi ca những khoảnh khắc, khi chúng ta thoáng nắm bắt một thế giới mà mọi nhãn hiệu dán lên nó đều là nhảm cả.
-Charles Simic,

The

New York

Review of Books


"Thật hiếm hoi, nàng thơ nói, với bất cứ ai, rõ ràng như thế, khẩn trương như thế, như là trong trường hợp Zagajewski," Brodsky viết.

"Không tận cùng

, lọc ra từ những tập có trước đó, có những tập đã tuyệt bản, như Trémor, Canvas, Mysticism for Beginners, ngoài ra còn những bài thơ mới, trong số những bài tươi mát, hách nhất, bảnh nhất của ông. Qua những bản dịch thật sáng suốt của Clare Cavanagh, Renata Gorczynski, Benjamin Ivry, và C. K. Williams, … những bài thơ chia sẻ một thiên hướng, nó cho phép chúng ta, qua những từ của Zagajewski, 'kinh nghiệm sự kinh ngạc, và đứng sững trong kinh ngạc, trong một khoảnh khoắc, một chốc lát. Hoặc lâu hơn tí nữa: hai chốc lát'."
Một đóng góp cho ngành thống kế

Trong số 100 người

những người luôn luôn hiểu biết,
bảnh hơn người khác
- 52 mạng

nghi ngờ, từng bước chân
- gần như hết, số còn lại

vui mừng vì đưa tay ra,
nếu chuyện đó không mất công,
- 49, nhỉnh hơn một tí

luôn luôn tốt
bởi vì không thể làm khác
- 4 đấng, ồ, may ra có thể 5

có thể ngưỡng mộ,
mà không thèm muốn, hay ghen tị,
-18 mống

đau khổ vì ảo tưởng
tuổi trẻ qua quá nhanh
- 60, hơn, hoặc kém, một tí

không coi nhẹ chuyện đời
- 40 mạng, thêm 4 mạng

luôn sống trong sợ hãi
một kẻ nào đó, hay một chuyện gì đó
- 77 mạng

có thể hạnh phúc
hai chục, cỡ đó, ở trên đỉnh
từng cá nhân vô hại, hoang dại giữa đám đông
- nửa con số trên, ít ra là vậy

độc ác khi hoàn cảnh bắt buộc
- tốt nhất, đừng nên biết
dù con số đại khái

khôn ngoan, sau sự kiện


- chỉ vài cặp khôn ngoan hơn trước
chỉ lấy sự kiện từ đời sống
- ba chục
(tôi mong mình lầm)

còng lưng vì nỗi đau
không ánh sáng loé lên trong bóng tối
- tám muơi ba
sớm hay muộn

ngay thẳng
- ba muơi lăm, vậy là quá nhiều
ngay thẳng và hiểu biết
- ba

đáng thông cảm
- chín mươi ba

ngỏm
- một trăm phầm trăm
con số này cho tới nay chưa thay đổi

WISLAWA SZYMBORSKA
[Nobel văn chương]
Stanislaw Baranczak và Clare Cavanagh
dịch từ tiếng Ba Lan
Partisan Review
1998
Self Portrait
Subject Brodsky
Tưởng Niệm Czeslaw Milosz [1911-2004]
Old Marx
Our World
Trong căn phòng nhỏ
Reading Milosz
Greene House
---
1
2
3